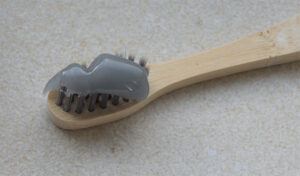 We've had dental patients asking our opinion about charcoal toothpaste. While the concept of charcoal as a teeth cleaner sounds really great – "natural" ingredients and so forth – the truth is that the products are inconsistent, they can have some serious drawbacks, and there are better choices.
For a good article on the topic, you can look at Consumer Reports for a thorough overview of charcoal toothpaste.  And one thing that they point out is the inconsistency of products, particularly in abrasiveness. The ingredients used to make the charcoal in toothpaste vary greatly from product to product.
This means that the products can be too abrasive for safe use on teeth. Yes, some abrasiveness is good, but too much can damage teeth, especially over time. This can also mean that any whitening may also be countered by thinning of the enamel, which can make the yellower layers under the enamel show through more. (Learn more about our dental whitening procedures here.)
If you are looking for a better alternative for dental care, Total Health Dentistry of Encino recommends OxyFresh dental products. OxyFresh products are alcohol free, and they offer toothpaste both with and without fluoride.
So don't fall for the charcoal toothpaste fad, even if it seems to make sense. Charcoal just isn't the best option for taking long-term care of your teeth.
***
Always feel free to ask us questions on any topic related to your teeth and how dental health affects your total health.